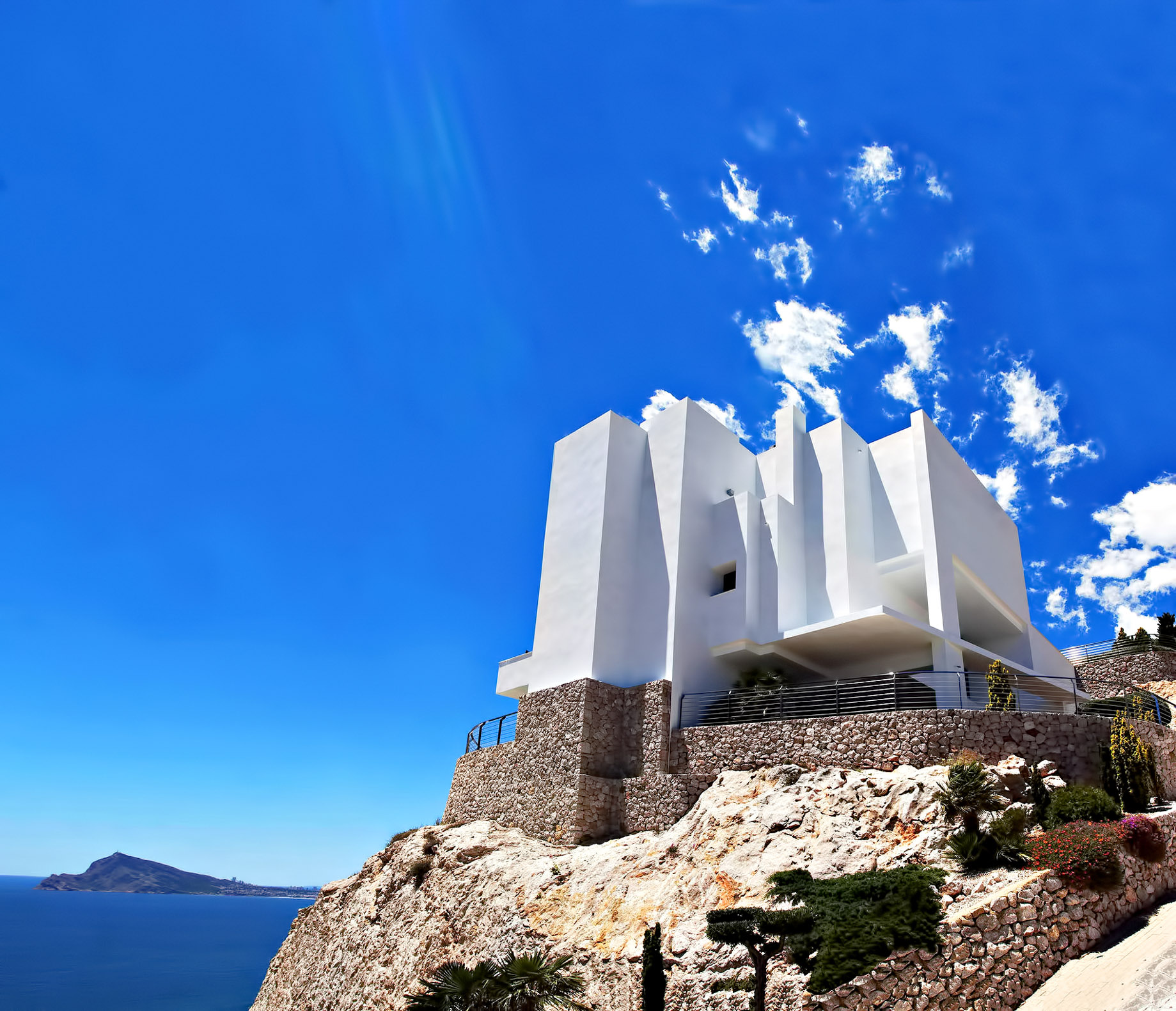 Name: Mediterranean Pearl
Type: Clifftop Luxury Residence
Bedrooms: 4
Bathrooms: 5
Levels: 3
Size: 4,531 sq. ft. (421 m2)
Completed: 2013
Sometimes there is an architectural shape that can only be conceived once, and after its transformation from vision to reality, the full extent of the masterpiece is revealed. This is the case with this exclusive hilltop residence overlooking the beguiled Morro de Toix in Calp, Spain. A vivid expression of luxury, this stunning property was born from the aspiration of a project that from the beginning, sought to crown a privileged environment.
The vitality of the interior spaces are embraced by large sliding glass areas allowing the majestic exterior views to permeate throughout the residence. You are immersed in the experience of rising above the world as you peer through the windows. The open flowing interior unites with terraces and pool bringing you closer to the glorious natural setting on top of the Toix-Mascarat urbanization. Residents enjoy incomparable views towards the south, with a panoramic view of the Bay of Altea and out across the Mediterranean Sea.
The modern design of the residence reflects a style that is a perfect union of straight and formal lines. The architect relies on them to create each part of the ensemble, achieving a perfect balance between great aesthetics and functionality distributed between three floors. Outside, the pergola terrace serves as a prelude to the pool, perpendicular to the facade and to the infinite horizon, allowing for a fusion of the blue of the water and the sea beyond. A visceral experience of luxury solace and sanctuary, the residence is overwhelmed with a soothing ambiance and a feeling of wellbeing that encompasses the home.
Architect: Carlos Gilardi Architect
Photography: Antonio Lopez Espada
Location: Carrer Llevant, Calp, Alicante, Spain